If like me you spent your May wages before May even kicked in, on repairing your God forsaken car, buying new parts for your fixie, binging on Haribos Starmix (only the fried eggs and love hearts), then like me you'll love this. A whole bunch of free weekend events which are guaranteed to keep a smile on your gob.
1. NYC Streetwear giants MISHKA, are teaming up with I HEART... who brought you
I HEART SECOND-SON
to provide another free rooftop BBQ and music in THE MACBETH in Hoxton. Gets our Cocaine't4kidZ guarantee to be a good'un.
2. White Kids present...Bounty/POP UP Pirates Launch party. Now we all know what BOUNTY is about, if you dont read the fucking flyer Moron and past experiences tell us that this is gonna be a MUDNESSSS!!! In my opinion Pop UP Pirates is an unknown option, but da DJ lineup clarifies any confusion, definitely spoilt for choice on Friday night...how often does that happen and you dont have to pay.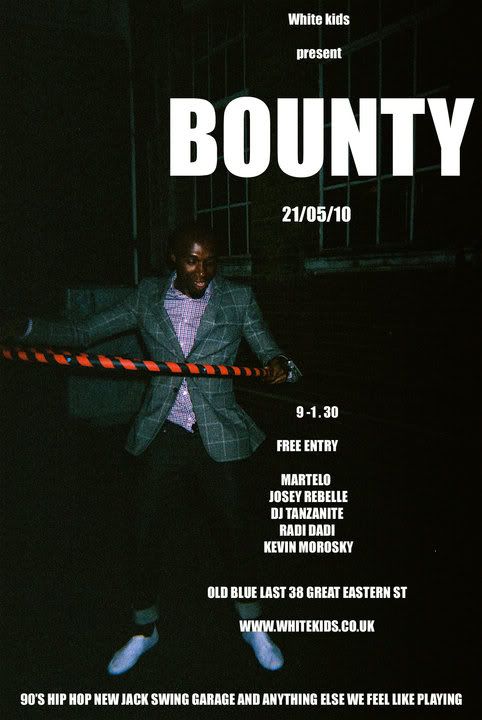 3. ...finally Blogging Champions YO MAMA present BEEF...East Coast VS West Coast @ the people dems favourite venue THE MACBETH. Oh yeah, did I mention that its free.
What about Sunday? You ask...What the fuck you think this is, I work a 9-5 man, everyone knows Thursdays are the new Fridays
And there you have it...I lay it out for you to play it out
Nuff Said
JoeyDaKid